The Benefits of Watermelon
By Kendra Lay – from the AOMA Blog
I was groomed from a young age to love watermelon. Growing up in Florida, almost every week in the summer my father would stop at a roadside stand and carefully select one of the heavy, green melons. There would be thumping, weighing and sniffing and finally he would select his prize. When we got home, he'd cut off the watermelon in large rounds, place it on a plate and eat it with a spoon–leaving behind just an empty, cylindrical rind and seeds floating in sweet juice. He would always cut me off a piece too and I'd enjoy this summertime ritual with my dad.
It wasn't until I became a practitioner of Chinese medicine that I learned watermelon was way more than a sweet summer treat. It is actually a useful medicinal food in the summer, especially for those of us that live in very hot climates.
In Chinese medicine, foods and herbs have energetic properties that have specific healing capacities. Watermelon is described in Chinese medicine as affecting the heart, bladder and stomach. It clears heat and is cold in nature. As we all know, it is full of delicious juice, which nourishes the fluids of the body while helping to promote urination. This is a very effective strategy to help clear that summer heat from the body! In Chinese medicine it is said that heat can cause constipation, and watermelon is a wonderful antidote for this common ailment as well. Perhaps best yet, watermelon has a calming effect on the spirit and helps to ease frustration, restlessness and worry. So if rising mercury is making you irritable—make sure to cut yourself off a juicy slice!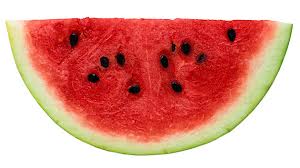 Waste not, want not: the seeds of the watermelon can also be used as medicine as well. Dried seeds can be boiled in water and consumed as a tea. The seeds are said to help the kidneys in Chinese medicine—helping to promote urination and also acting a vasodilator to lower high blood pressure.
Those who have a weak digestive system should enjoy watermelon sparingly. In Chinese medicine it is understood that cold foods and raw fruits and vegetables are hard on the digestive tract. Because of this, if you have gas and bloating, eat watermelon in moderation. You could also visit an acupuncturist in your area to help you improve your digestion-either using acupuncture, herbal medicine, or both.
From a western nutritional perspective, watermelon is high in carotenoids such as lycopene and antioxidants such as vitamin A and C. It is also high in electrolytes, which is why it is so good for helping us stay hydrated.
East or West—any way you look at it, watermelon is a healthy and delicious summer food. Watermelon is tasty enough on it's own, but also check out the recipe below for another "cool" way to enjoy this yummy fruit.
Cooling Watermelon, Tomato & Basil Salad
Ingredients
2 cups ripe tomato, cubed
2 cups watermelon, cubed
¼ cups pine nuts
1 Tbl. fresh mint, minced
1 Tbl. fresh basil, minced
Pinch of sea salt
Instructions
1. Place all ingredients, except for salt, in a bowl and toss together until combined.
2. Sprinkle the salt over the top and stir again. Chill, then enjoy!
References:
Healing with Whole Foods by Paul Pitchford
The Tao of Healthy Eating by Bob Flaws
The World's Healthiest Foods by George Mateljan
About the author:
Kendra Lay, AP, LAc, ACN is a graduate of AOMA practicing in Florida. She specializes in combining Chinese medicine with modern nutrition. Visit her website at www.KendraLay.com